Disco Dance - History of Disco Dancing
Disco music would never reach the height of its popularity without the presence of the large dancing movement that popularized this music genre all around the world. It was originally formed in the late 1960s as a reaction to the popularity of Rock music and the stigmatization of alternative music styles which were preferred by the youth. By incorporating the elements of funk, soul, pop and salsa, dance music and dances quickly rose in popularity in North America, reaching the height of power mid-1970s to early 1980s when disco dances in discotheques represented some of the most sought-off forms of entertainment by young men and women from many different backgrounds. Fueled by the musical hits of disco performers such as Donna Summer, Boney M, the Bee Gees, The Trammps, Sylvester, Chic and Gloria Gaynor, and the sudden rise of popularity of several disco-themed Hollywood films (most notably "Saturday Night Fever" from 1977 and "Thank God It's Friday" from 1978), disco dance evolved into a popular dancing form that is still practiced today. It's easily recognizable sound (with components such as an eighth and 16th note, "four on the floor" beat, hi-hat pattern, and syncopated electric bass line) managed to capture the imagination of many musical artists, providing inspiration for new popular disco songs many decades after the height of their popularity. These new music hits and associated sub-genres (Euro disco, space disco, nu-disco…) and fusion genres (dance-punk and disco house) enabled disco dance to survive and be practiced even today.
The origin of the disco dance can be first identified in the formation of the specific night clubs – discotheques. They were originally formed in after the early 1940s in Nazi-occupied Paris where their night clubs (called in French discothèque) hosted radio presenters who were often called "disc jockeys" (or in short DJs) who played jazz records during the time when Nazi laws prevented the showcase of live musicians. As years went by, more and more music venues adopted the form of these French night clubs. By 1960 they appeared first in the United States, where they became very popular with music fans of Jazz, Funk, Soul and other alternative music and dance genres, with the term discotheque and disco also referring to the form of a short female dress that fans of these night clubs liked to wear. By the year 1964, the night club term Disco was first popularized in public by the Playboy magazine.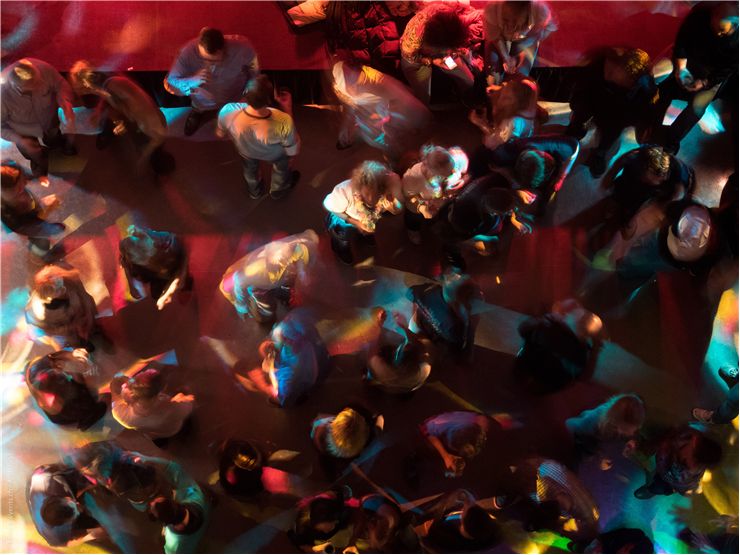 Dance movies in Disco are very situational, with dancers inventing their moves while never stop moving when the music is on. On the large dance floors, dancers could enjoy disco by themselves, in a pair or sometimes enjoy organized music by partaking in a "Bus Stop" line.
Early disco dance formed between 1966 and 1974 in the discotheques in Philadelphia (which became known as "Philadelphia Sound" style of music dance and New York City (most notably in the private parties of celebrated night club The Loft). This early success stories of soul music were quickly replicated across the US, with many musical artists of early to mid-1970s starting to incorporate many disco elements in their work (The Supremes, Jerry Buttler, Jackson 5, Stevie Wonder, The O'Jays and others). By 1971, disco music had hit not only radio airways in a big way, but also television, most notably in the music/dance variety show Soul Train and later on others. Between 1974 and 1977, disco music was accepted by the mainstream audience, with many dance music hits starting to reach number one stop on the Billboard Hot 100 list. Most notable artists from that period that reached No1 spot were The Hues Corporation, Carl Douglas, Gloria Gaynor, The Jackson 5, Donna Summer and The Bee Gees. Between 1977 and 1979 disco music and dancing was truly accepted in the US and Europe, fueled by the tremendous successes of several artists and Saturday Night Fever movie that drove audiences to cinemas, and even inclusion of disco in the works of several notable rock artists.
After the decline of disco music in the early 1980s, disco dancing managed to survive in modern years by practitioners of not only retro fans but also users of aerobic exorcizes, theme parties and dancers in retro-themed nightclubs.