Ice Dancing - Facts and History of Ice Dancing
Dancing comes in many shapes and forms, but none is more attractive and dangerous as ice dancing, a discipline of figure skating.
This highly acrobatic and demanding form of dance originally evolved from the ballroom dance, giving ice skaters a chance to emulate popular ballroom dances on ice, but that form of professional dancing where a pair of skaters is performing a fixed move set (Golden Waltz) was banned from international competition.
The most popular form of ice dancing today is pair skating where dancing consisting from man and women perform a custom dance routine following the music beats of the song of their choosing.
The variations on the dance include close dancing where pair remains close to one another without being able to do jumps, original dance competition, free dance style and more.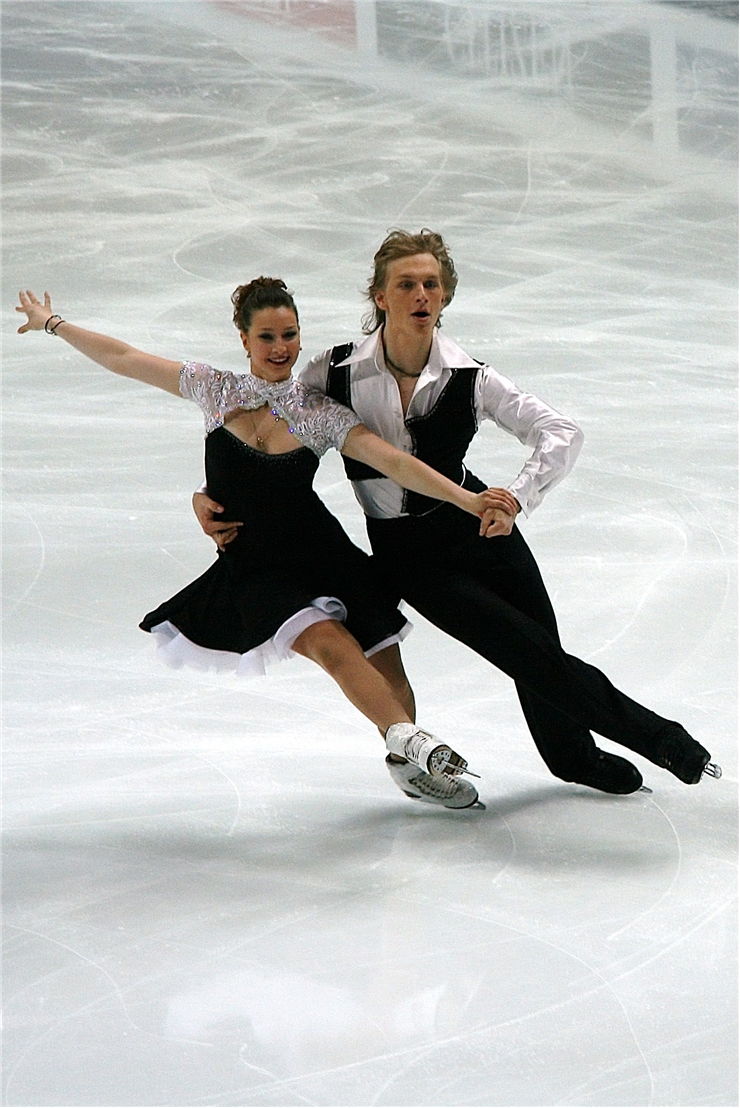 Origins of dance-like figure skating (ice dancing) go all the way back to the mid-1800s when the ice skaters tried to emulate ballroom dances while skating on flat ice using very conservative move routine that placed both feet on the ice all the time. Skaters become more and more bold with following years, introducing more advanced moves, infusing ice dancing with the wide variety of graceful ballet moves, and experimenting with different genres of music that could enable different styles of ice dancing.
Most important dance routine in the early history of ice dancing came from the mind of American ballet dancer and choreographer Jackson Haines, often named as "the father of modern figure skating". He popularized his Haines Waltz in Europe, and especially in Vienna who was viewed then as the dancing capital of the entire old continent. During late 19th century Vienna was spellbound with all forms of the waltz, and ice skating version of this popular ball-dance (danced in the form of the three-stepped waltz) grabbed the attention of entire city, nation and eventually Europe. Slowly more advanced moves became common, and Haines Waltz that demanded both feet remained on the ice became obsolete.
While the ice dancing was initially only recreational dance for high class, it quickly became popular for all classes and started being viewed as a viable dance for competitions. The first professional male skating tournament was held in 1896 in Russia, while first women competition happened ten years later in 1906 in Switzerland. The organizations that took control about rule governing and professional competitions arrived in the mid-1930s. International competitions for professional dancers started with the World Championships in 1952 and two years latter in 1954 the European Championships (twelve of the first sixteen world champions were from Britain where this sport held the largest popularity). Ice dancing presence on Olympic Games started with several exhibition appearances, until it was officially accepted as an Olympic sport on 1976 Winter Games in Innsbruck, Austria. The gold medal at that event was taken by the pair of Lyudmila Pakhomova and Aleksandr Gorshkov from the Soviet Union. One of the most beautiful Olympic ice dances that remains remembered to this day was performed in the 1984 Olympic Games at Sarajevo by the British pair of Jayne Torvill and Christopher Dean.
The modern form of Olympic ice skating performance that was introduced in 2010 mixes the elements of Original Dance form and Free Dance segments, producing shorter but more exciting to watch routine.